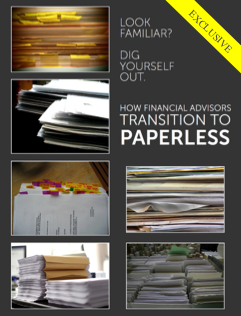 Interested in going paperless, but don't know where to start? Curious to know how other advisors have done it?
Meet Jim, the independent RIA who was recently dubbed a technology 'pioneer' by InvestmentNews. Find out how he first established and now optimizes his 'paperless office'.
Learn the 3-Step transition process and hear all about Jim's story in this Free Guide download.
How 'paperless' benefits you and your clients
3 Steps for transitioning your office
Jim's 3 paperless tools - What they do & How much they cost
PLUS: Find out how Jim introduces paperless tech to clients
Download a copy to get started!